The elementary class holiday parties are today at 2pm. One visitor per student is allowed, and masks are required for all entering the building. We look forward to celebrating with you!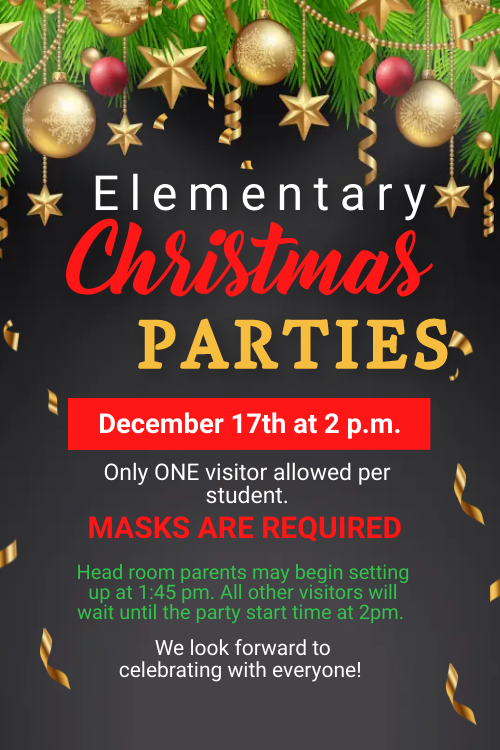 Due to the heavy rain in the forecast for tomorrow, the kindergarten field trip has been rescheduled for next Friday, November 5th. Sorry for the inconvenience!

PARADE INFO: •The homecoming parade tomorrow is rain or shine at 2pm. Please send a poncho or umbrella with your child in case of rainy weather. ☔️ •Park at the middle school lot to avoid getting blocked by buses and parent pick up line. 🚙 •Parents that wish to attend the parade and watch with their child will wait outside the elementary building until your child's class comes outside to limit traffic inside the building. You may also wait along the fence outside. 🚧 •After the parade, each teacher will have a sign out sheet. Please sign your child out before leaving with them. 📝 •Please message your child's teacher before the parade if you plan to take them home afterwards so they can have them bring their backpack outside with them. 🎒 •Wear black & gold tomorrow to show that #EaglePride! 🖤💛🦅
Please note: The track will be closed until further notice for repairs, resurfacing, and repainting. Thanks for your understanding and patience.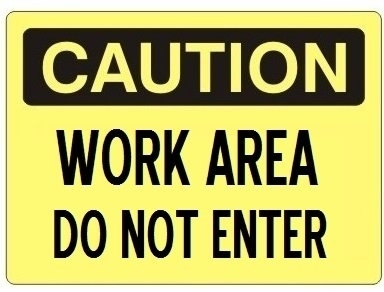 Due to the forecasted storms tomorrow, the elementary field day will be CHANGED to Friday. Please make sure that students dress appropriately for the weather, it is supposed to be a little cooler/windy. There is still a slight chance of rain Friday, so we ask that parents send in a change of clothes in case students get wet. Please send a water bottle to school with your child to take outside with them. Also, here is the link to view the elementary talent show at 1pm today:
https://youtu.be/XgfVq_HepY8

The elementary spring concert date has been moved to Friday, April 30th. Sorry for any conflicts this may cause! The times will remain the same, K-2 will sing at 6:30, and 3-4th will sing at 7:30.


Congratulations to another preschool student on earning their gold star! ⭐️ #EaglePride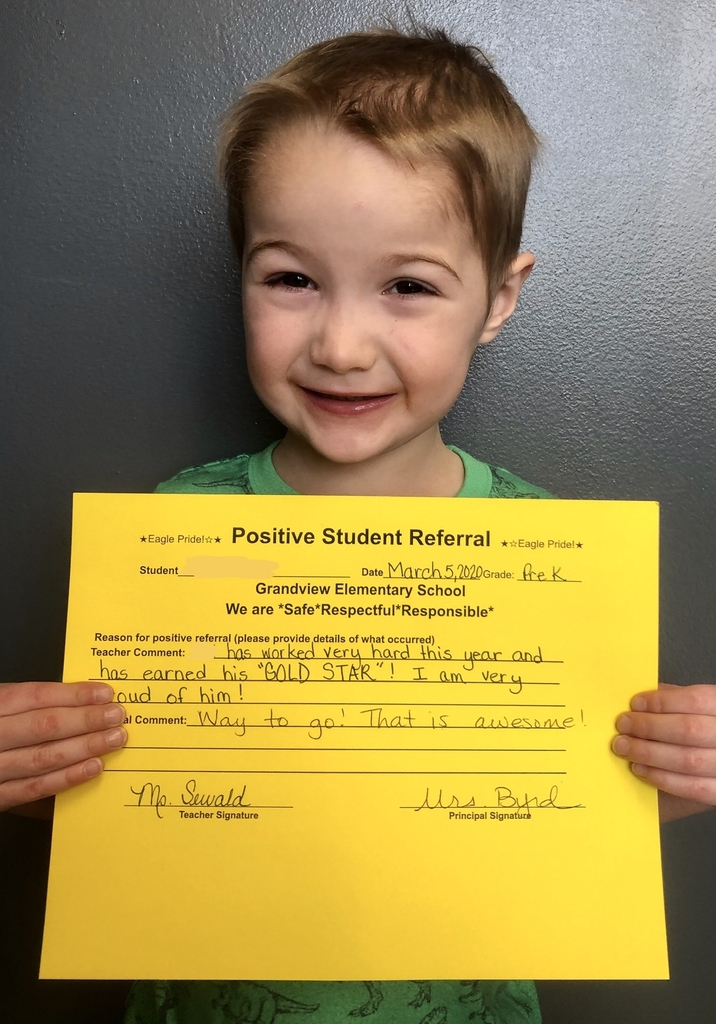 The Eagle's Nest Food Pantry has a wide variety of food and hygiene items available. There are paper request forms in the office, or use this link to request items online:
https://forms.gle/pUzKPPME7Rm9Pvh98
This is open to anyone in the Grandview community!

These young ladies were recognized not for one specific act, but for continuously going above and beyond to help their teachers & fellow students. Great job ladies! 😍 #EaglePride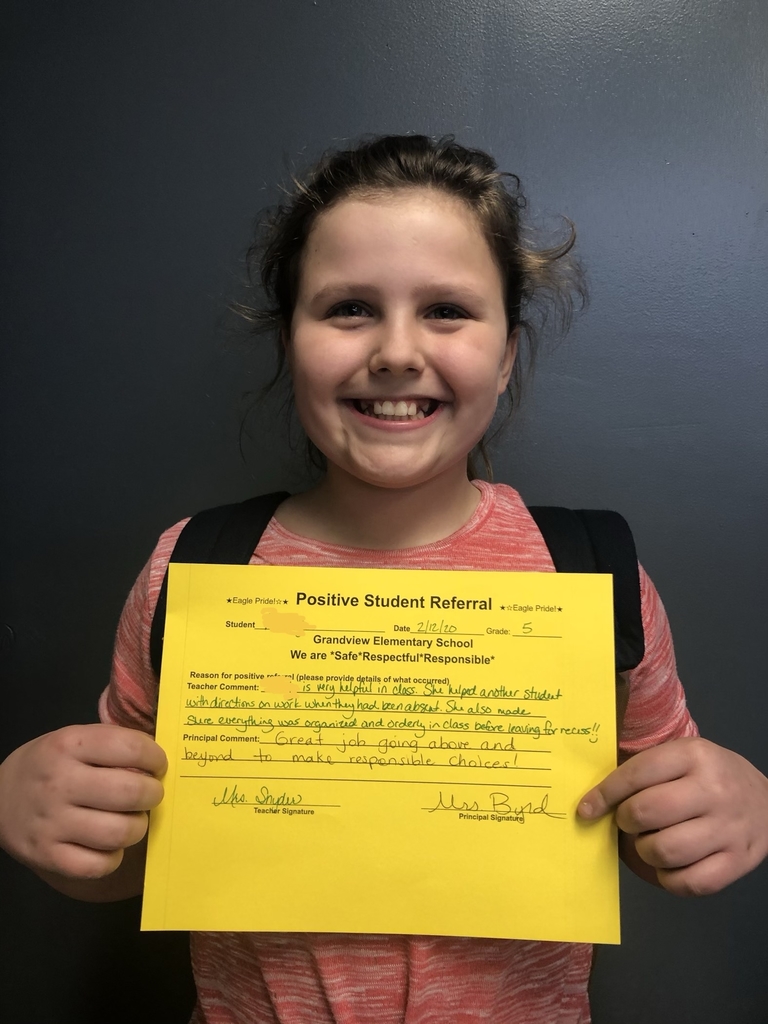 This preschool student has met all his goals for the year AND has now mastered all the kindergarten sight words!! Wow! 🤩 #EaglePride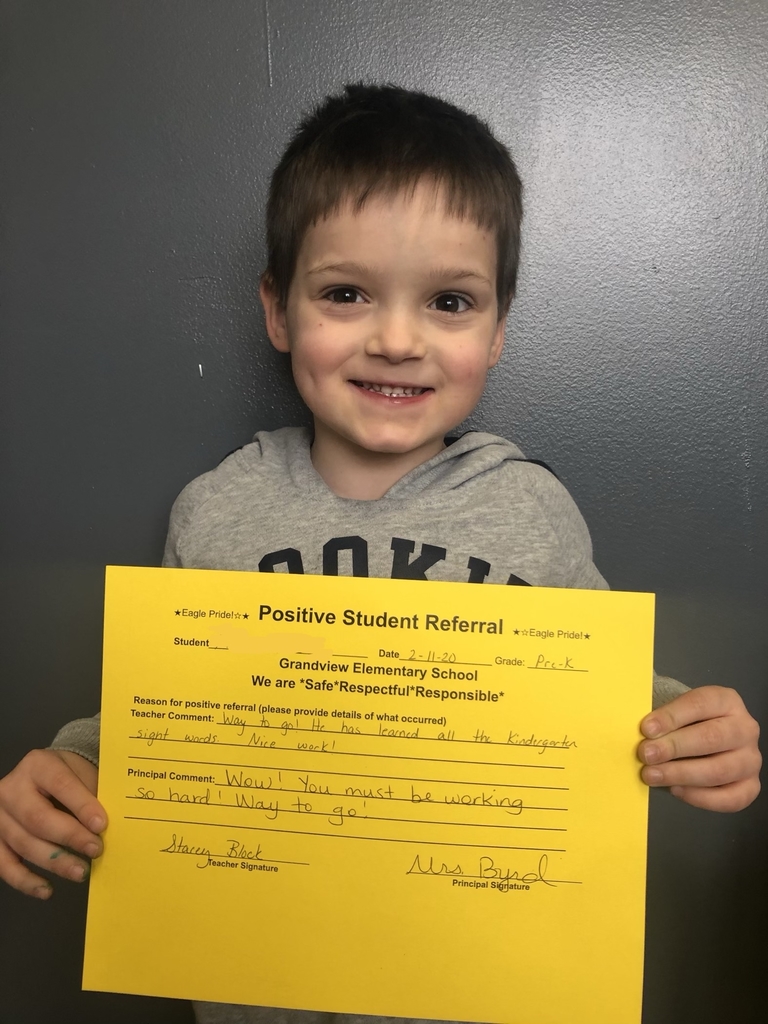 Congratulations to this student for having self control and making smart choices! 😀 #EaglePride

Great job to this young lady for helping a friend clean up a spill! #EaglePride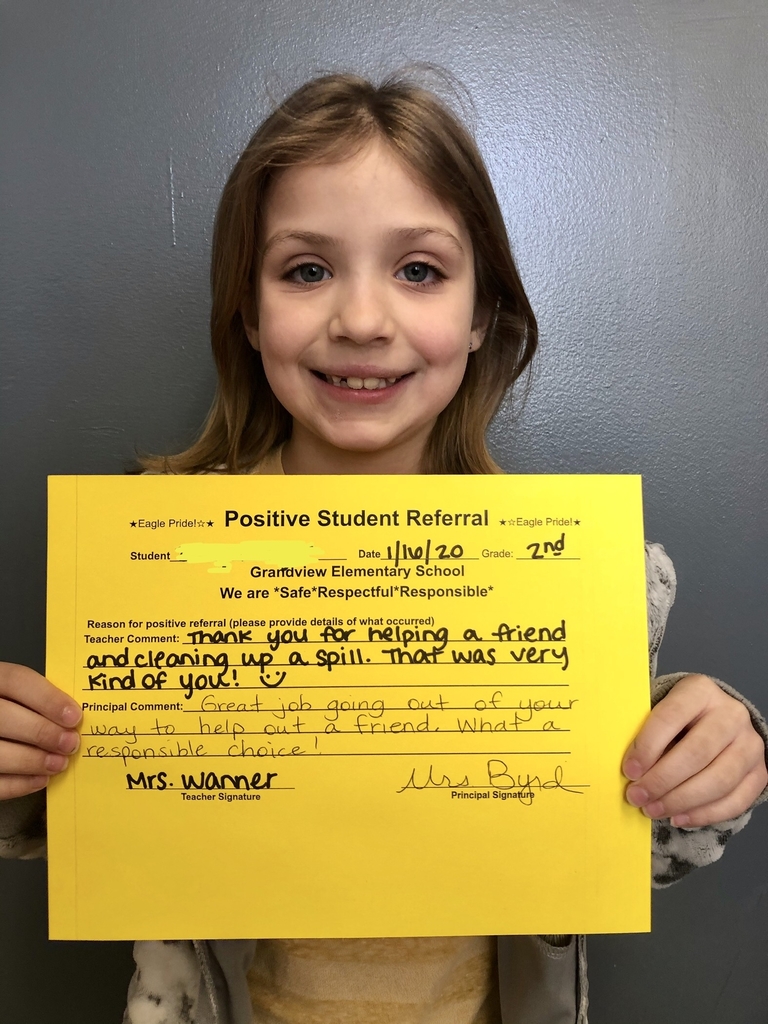 The preK-2nd grade Christmas Concert is next Tuesday the 17th at 6:30 pm in the high school gym. See you there!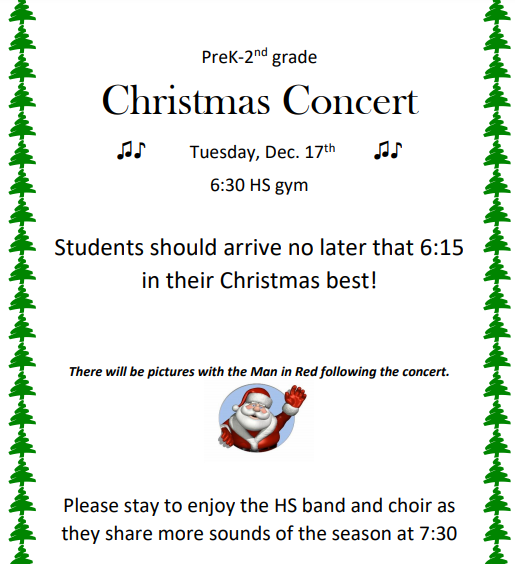 Congratulations to this student for earning a positive referral for helping teach a math concept to a friend! #EaglePride

Congratulations to Mrs. Winkeler for being selected as the Elementary November Staff of the Month! The staff nominated her for going above and beyond in both curriculum implementation, and for volunteering to give students sensory/movement breaks during the day. Thank you for going the extra mile! #EaglePride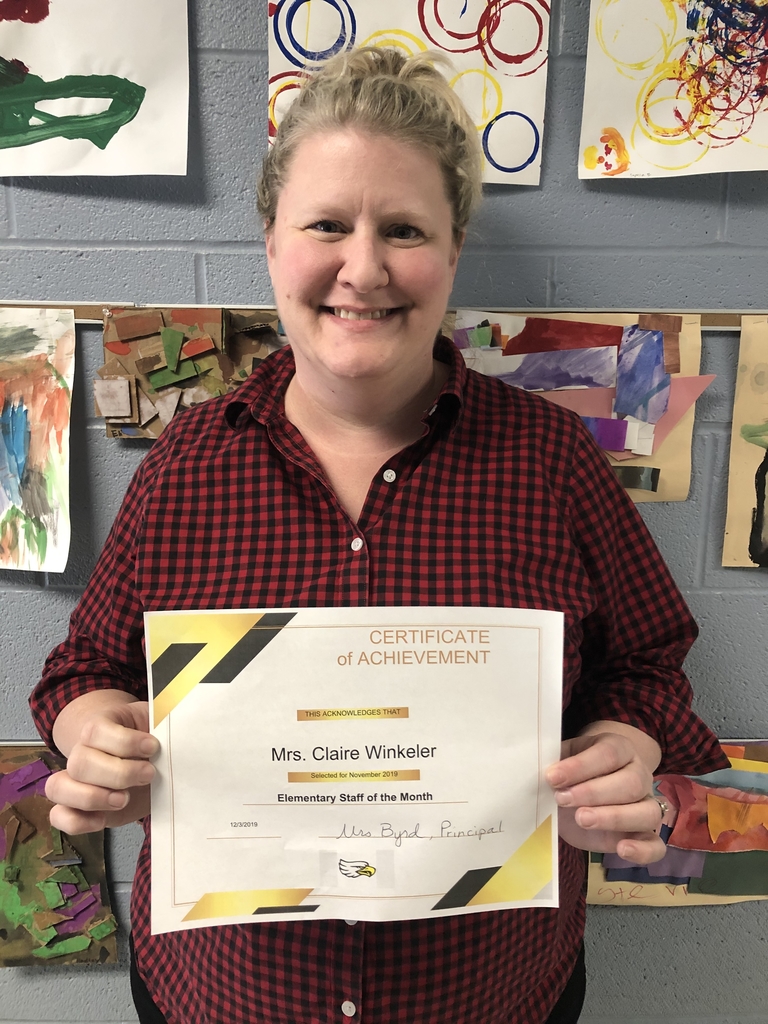 Mrs. Byrd is asking for input from the community about interest in after school care. There would be a COST of $10 per day/per child to utilize this service. Please take the following survey, we appreciate your input!
https://forms.gle/S2RQvyDybxHrkwwN8

Congratulations to these students for displaying such kind behavior! Great job! #EaglePride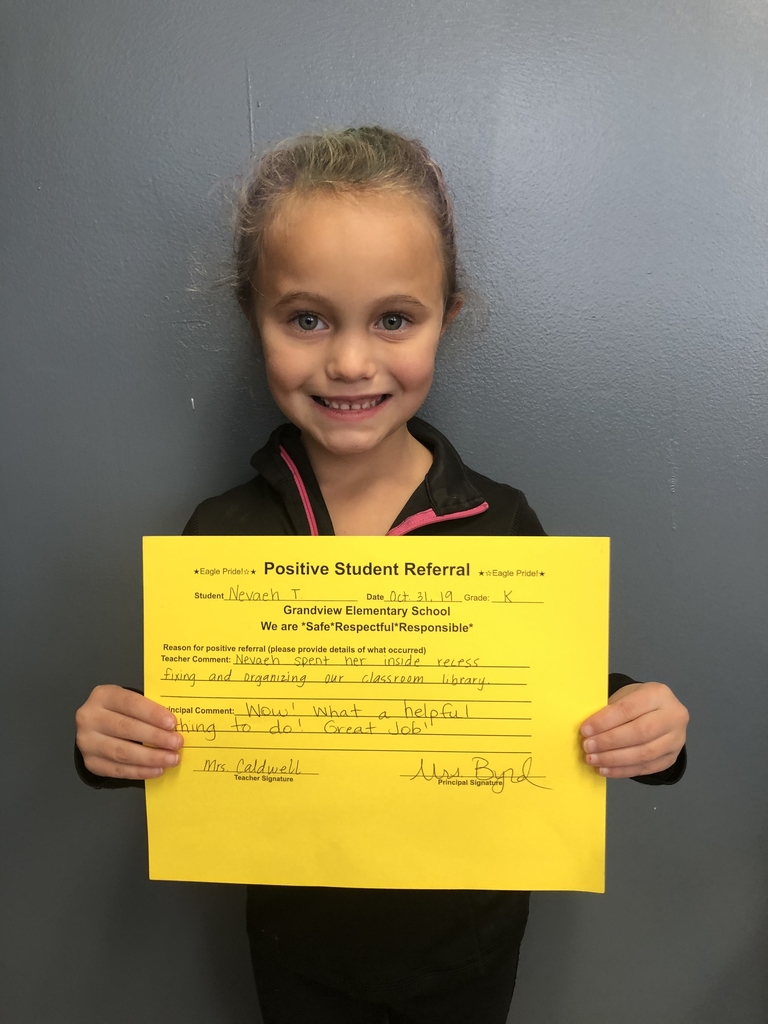 Just a reminder, there is NO Good News Club today after school, 10/29. Students will go home on their normal method unless the office is notified.